SUN GOD PERU is always looking to partner with Travel Agents and Tour Operators interested in selling Peru and Latin America travel products to their clients.
SUN GOD PERU designs and operates inbound travel programmes in Peru, Chile, Argentina, Ecuador and Bolivia for individuals, travel agencies and corporations, in all major markets worldwide.
The principles that guide Sun God Peru are very clear – to deliver an unfailingly high level of service, paired with an equally high regard for ecological concerns, and a product that combines technology and quality with best value for our clients.
Our company has been solidly growing over the industry ratios during the last 10 years; at the beginning, solely based on Internet sales and then increasing our business to business channel by adding Travel Agencies and Tour Operators from all over the world.
During 2005, SUN GOD PERU was the number 1 online travel agency in Latin America. Today, is the only Latin American company developing its own on-line air reservation solution based in Web Services.
As a Peruvian Tourism Ministry Accredited travel agency, (DIRCETUR I.D. # 034) we are a fully bonded tour operator. We organize all kind of daily and package tours all around Peru and South America. You can get our help for arranging domestic and international flight tickets as well.
Please note out that our professionalism is mostly about small group tours which gives you a perfect combination of comfort, customizability and fairly priced. Please don't hesitate to contact us for any of your special need.
There are many travel Agencies & tour companies in Peru and we know you have a choice, we offer a uniquely diverse and personalized experience unmatched by the others.
OWN OPERATION OFFICES:
Sun God Peru counts with its own operation offices in:
Lima:
Prolong. Arenales 740
San Isidro
Cusco:
Main Headquarters
Los Ayllus I-1 Off. 100-A
San Jeronimo – Cusco
Arequipa:
Calle Jerusalen 321
Puno:
Jiron Lima 345
BUSINESS PARTNERS
Sun God Peru has also business Offices in:
Ecuador and Bolivia
ADMINISTRATIVE SCHEME:
Sun God Peru´s management team comprises some of the most dynamic and experienced professionals in the Peruvian Travel Industry:
C.E.O. : Alex Fernandez
Sales & Marketing Manager: Helga Macher
Operations Manager : Julia Latorre
TECHNOLOGIES:
We are a DMC whose operations are Internet-based and up to now we have focused on the development of technologies for our own use, without ruling out the future development of a commercial product for the tourism sector. Among them, we emphasize the Travel Planner, able to design very complex itineraries in brief periods of time. Furthermore, we have launched the first Latin American on-line portal for ticket sales, which we hope will take us to a leading position in the travel industry.
OUR MISSION:
Sun God Peru is a consortium of travel companies dedicated to providing absolute client satisfaction. This will be achieved: by innovation; by remaining a low cost producer; through efficiency and productivity; with seamless state of the art technology; and through expertise and knowledge in a highly trained and well rewarded work force; with traditional old world manners and service; being at all times environmentally sensitive.
OUR SERVICES:
Sun God Peru is a Destination Management Company providing every type of planning and operational travel service to clients, travel professionals, incentive homes and corporations when journeying from all over the world to Peru, and our region of South America.
We have a full time staff of 50 employees, with own operations in Lima, Cusco, Arequipa and Puno and in the major destinations all over the region through our associate travel partners. We pride ourselves on our dedication to our clients, in order to ensure that each detail of every trip is perfect.
Sun God Peru provides a complete and diverse range of services for many different types of travel, including:
FIT Travel
Flexibility is an Sun God Peru speciality, and our team of highly trained and knowledgeable Tour Managers are local experts at your disposal. We will creatively and competitively tailor tour arrangements to suit individual guest requirements.
Tour Series and Groups
Using our ability to confirm accommodation at competitive prices, and our wide range of products and resources, Sun God Peru can create and operate tour series groups to exact specifications and, if required, under different corporate identities, including your own.
Incentive Travel
At Sun God Peru we understand that Incentive Groups need special attention to details, and unusual events and activities. We have therefore developed a dedicated Incentive department who are experts in this field, and will provide the most creative itineraries to fit any budget, and operate each programme smoothly and efficiently on the ground.
Special Interest Groups
Sun God Peru is practised at creating exciting and original itineraries for special interest groups, and we can provide specialist guides and lecturers for wildlife, adventure sports, art, archaeological and cultural tours, as well as themed professional delegations in any field.
Conferences and Events
Sun God Peru has the infrastructure and expertise to cope with the most complex conference and special event arrangements. Pre- and post-conference facilities include coordinating hotel bookings and conference facilities, with the provision of staff to organise sightseeing excursions for delegates and their spouses. We annually make our own events and seminaries, which congregate more than 100,000 persons along one year: The Best of Management, Expo-Education, Executive Secretaries Seminars, etc.
Quality Control
Is all-important to us, which is why Sun God Peru's Quality Control department ensures we are:
Implementing corporate standards and relevant identity at all times.
Monitoring and refining all services.
Contacting every client regularly to ensure that services are satisfactory.
Ensuring that Sun God Peru's guests receive the best available services.
OUR SERVICE PROMISE:
For each of different types of travel service, one thing remains constant – the Sun God Peru Service Promise. This ensures that we provide our clients with the following:
A flexible response, to all your inquiries.
A rapid response to any inquiry made.
The best guides available care for Sun God Peru's clients while touring with us.
Sun God Peru's local contacts and own offices ensure our clients receive preferential treatment every step of the way, while they are with us.
Every client travelling our way has the security of a 24-hour contact number, for assistance any time of the day or night.
Communications are all important to us, and we ensure that we have the best available systems and technology.
Creativity. As we recognize that each group or individual is different we ensure that the maximum creative energy goes into each group we handle, both large and small, so that we far exceed our clients travel expectations in Peru.
Value for money is more important today than ever before. Sun God Peru offers the best value for money available for the level of service required.
Language skills are a must in today's global village, which is why we have fluent English, French, Italian, German and Spanish speakers as permanent staff.
Become an SUN GOD PERU Group Leader and Travel FREE!
Memories are the best things to bring home when you travel, because they last forever. It's even better when you have loved ones to share them with.
Sun God Expeditions put a perfect plan for you to save a lot of money, enjoy quality time with family and friends, and bring that extra souvenir home! At Sun God Peru, we strongly believe that word of mouth is our best advertisement. And it works.
Just ask the more than 300 Group Leaders who have chosen an Sun God Peru  adventure for their travelers this year. Some advertise. And some simply want to take a special trip with friends and family. But they all love sharing their joy of travel. And all our group leaders appreciate the benefits their travelers receive with Sun God Peru.
Focus on Active, Mature Travelers-Fully experience a destination by taking the roads, paths, and waterways less traveled.
Small Groups-With only 12-16 travelers on a typical Sun God Peru adventure, it's easy to fill an entire departure.
Opportunities for Discovery-From unique modes of transportation and lodging to one-on-one cultural discovery and interaction.
Unsurpassed Value-You'll find it easy to show your fellow travelers that they're getting the most for their money.
Freedom to Enjoy-Once you've reached your destination, our expert, regional Trip Leaders will take care of your group every step of the way, leaving you free to relax and enjoy your trip.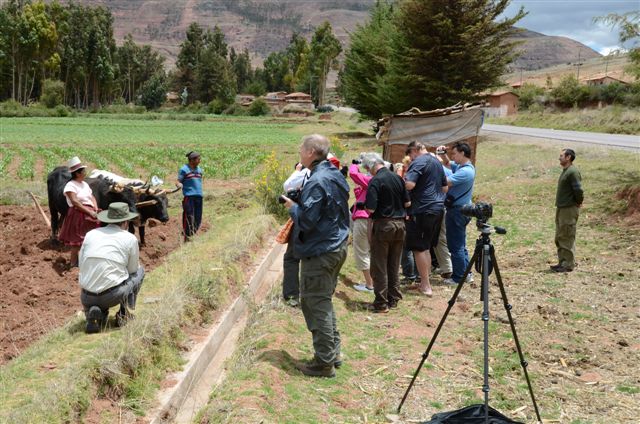 SunGodPeru.com
Villa Los Ayllus  # I-1
San Jeronimo
Cusco – Peru
24 hours: +51-984103410
Head Office Cusco: T: +51 (84) 246775
Office is open Mon-Fri 9:00am to 1:00pm and 3:30pm to 7:00pm. Sat. 9:00am to 1:00pm
info@sungodperu.com
http://www.sungodperu.com//
Nobody shows you Peru, like we do…