The Pre-Columbian Chachapoyas Kuelap culture, conquered in the 15th century by the Incas, has left a landscape scattered with villages and burial sites which until recently has been largely overlooked by archaeologists.
Situated in the remote corner of northeastern Peru, the cloud forests around the town of Chachapoyas (Amazonas region), these sites are dominated by the mighty fortress of Kuelap, perched majestically atop mountain-top cliffs overlooking the verdant Andean landscape.
 In Chachapoyas, remnants of the past invite discovery by the bold adventurer, and the cultures of the present extend a friendly welcome.
These programs Chachapoyas Kuelap are specially designed for those people with a special interest in archaeology, or for those with a taste for adventure.  
The area is still new to tourism, but we have taken every care to provide as comfortable a stay as possible, with air-conditioned vehicles and expert guides.
Chachapoyas Kuelap: Itinerary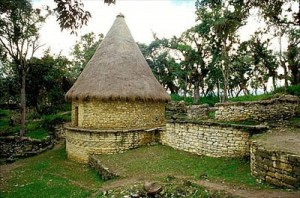 Day 1: Chiclayo/Chachapoyas Kuelap
In the morning you will depart from Chiclayo by private car, van or minibus with air conditioning.  You will cross 4 different Peruvian departments:
Lambayeque, south Piura, the North of Cajamarca and end in Amazonas, Starting in the coast and arriving in the late afternoon in the cloud forest of Chachapoyas. Afterward, lunch and dinner included. Overnight at Hostal El Chillo. (L/D)
Day 2: Chachapoyas Kuelap
After breakfast you will enjoy an excursion by horse to visit the colorful funeral buildings of Revash perched on a ledge up high on a cliff. 
They overlook a valley and tributary of the Utcubamba, near the town of Santo Tomas. The Cliff walls at Revash are decorated with geometric designs and figures of camelids.
Some of the tombs are decorated with T and cross-shaped niches. Then you will continue to town of Leymebamba to visit an amazing collection of well-preserved pre-inca mummies discovered in the Laguna de los Condores. Overnight at Hostal El Chillo (B/L/D)
Day 3: Chachapoyas Kuelap
After breakfast you will visit Kuelap, a spectacular pre-Inca walled city hidden atop a precipitous mountain. Although Kuelap was discovered 60 years before Machu Picchu, it is not as well-known to the outside world.
Nevertheless recent amazing discoveries in nearby areas that relate to Kuelap and to its history have captured the attention of archaeologists, international magazines and film companies. Box Lunch.
Following your visit to Kuelap, you will return to Chillo for the night.  Dinner and overnight at Hostal El Chillo or local hotel in  Chachapoyas city. (B/L/D)
Day 4: Chachapoyas Kuelap
Early morning trek to visit Gocta considered as the world's third-tallest waterfall. This remote wonder and the diverse forest and wildlife will amaze you.
There is the chance to admire the Andean Cock-of-the-Rock, the Peru national bird.  At late afternoon, return to Chachapoyas hotel for overnight. Dinner (B/L/D)
Note : People interested in more archaeology can change Gocta trek for Half day tour to Karajia.
Day 5: Chachapoyas/Chiclayo
After an early breakfast you will return to Chiclayo by road. Box Lunch included. Late afternoon arrival and transfer to selected hotel.
Fixed departures operates every Wednesday and Saturday from May to October.
Note: Flights can be arranged, but must be requested at time of booking.
We guarantee that you will be oriented and fully assisted.
Airport taxes and the international airfare to Peru are not included
Reservations to: info@sungodperu.com
24 hours: +51- 984103410 
Head Office Cusco: T: +51 (84) 232765;
Office is open Mon-Fri 9:00am to 1:00pm and 3:30pm to 7:00pm. Sat. 9:00am to 1:00pm     
www.sungodperu.com
Nobody shows you Peru, like we do…